Differences between Phase 1 and Phase 2 ESA explained
The differences between Phase I Environmental Site Assessments and Phase II Environmental Site Assessments is sometimes unclear to clients. We undertake Phase I ESA and Phase II ESA Assessments throughout Alberta and British Columbia and they are undertaken for a wide variety of purposes. Generally, a Phase I ESA does not undertake intrusive sampling or testing of soil, groundwater, air or building materials. A Phase I ESA generally is a detailed review of existing records pertaining to a site and its surrounds followed by a detailed site inspection. The site inspection itself is to examine the site and the potential for contamination and any Areas of Potential Environmental Concern (APEC's). The site inspection also involves evaluation of the buffer distances from the site boundary which are required. In Alberta it is a requirement under the Alberta Environmental Site Assessment Standard (2016) to evaluate the potential risks from other sites within 300 metres from the site boundary which could represent a risk of contamination to the subject site. As such, quite a large area is examined as part of the assessment. The buffer, (300 metres for Alberta and 250 metres for most other provinces) from the site boundary (which is examined as part of all assessments as required by the standards) is to determine any nearby sites which may have impacted the subject site in relation to potential contamination.  Potential impact risks often arise particularly from higher risk sites which are close to the subject site. Higher risk sites include: gas stations, dry cleaners, fertilizer and chemical works/storage, automotive repair/body works to name just a few. These can sometimes result in contamination on the surface of the subject site or underneath the subject site from ground water contamination. In some cases, contaminants can leave the site or migrate onto the site from neighbouring sites.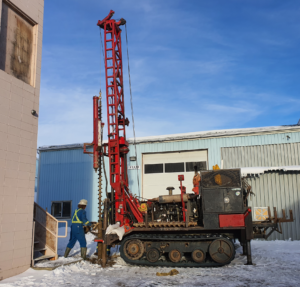 Often a limited Phase II Environmental Site Assessment or an Enhanced Phase I ESA is undertaken. These scoped assessments are often undertaken if the risk is not high and if background information provides high quality information to move forward in a staged way. In other cases, a full Phase II ESA may be required when there is a high risk involved from the subject site or neighbouring sites and/or a high degree of uncertainty.
Phase II ESA's are detailed assessments which are guided by the Phase I ESA as it is the Phase I which identifies the risks and Contaminants of Potential Concern. A detailed Phase I provides the basis for assessing the risk and whether a Phase II ESA is justified. Phase II assessments involve intrusive sampling of items such as soil and groundwater, spill or storage piles, building materials, vapour, dust or air. Sampling Design is specific to the site for the potential contaminants as outlined in the Phase I ESA. Conceptual Site Models are used throughout the assessment process. The evaluate the potential contaminant based on its specific properties and likely behaviour at or near to the site.  These conceptual site models are sometimes refined as more data becomes available from the soil profile and chemical analysis of the soil and groundwater.  The photo below shows recent drilling undertaken to install a groundwater monitoring borehole at an industrial premises for a Phase II ESA we recently undertook in Edmonton.
Once the results are interpreted it becomes clear if the testing has revealed contamination on the site.  There are generally 3 possible results in a Phase II ESA including;
No contamination detected. This is generally a very good result for both the seller and potential purchaser of the property or for a landowner undertaking Due Diligence.
Some contamination detected but either below guideline threshold levels or of limited extent. Contamination of limited extent is a good result as generally these sites are more readily remediated.  Contaminated areas are delineated both vertically and horizontally and a Remediation Plan is formulated for the remediation of the site.
Gross contamination on the site is sometimes detected which depending on the type and extent of the contamination (along with the specific localised site conditions) can make site remediation very difficult and expensive. This is particularly the case if the groundwater has been impacted.
Anderson Environmental Inc undertakes Phase I ESA and Phase II ESA Assessments and Site Remediation throughout Alberta and BC.  We also have coverage of Ontario.  We are a small, dedicated company who offer personalised and prompt professional service to our clients.  Why not give us a call so we can assist you with your next project.