As consultants undertaking Phase I Environmental Site Assessments and Phase II Environmental Site Assessments throughout Alberta,  British Columbia and Ontario we come across a lot of interesting situations. Sometimes we feel like Archaeologists or Historians trying to re-create what happened historically on a site.  This Due Diligence is important to our clients for risk management and as such we take a considered approach base on evidence from a broad range of sources.
Many of our clients know broadly what a Phase I ESA entails particularly our repeat clients who have used us over the years. When undertaking Phase I Environmental Site Assessments our aim is to gather all the relevant data possible through the relevant databases, record searches and other sources. There is however a limit often to what information is available and sometimes interviews of people with knowledge of the site yields important information. The pictures below show a marked up area of pavement which was marked out by our preferred locating contractor in Alberta with Ground Penetrating Radar. This shows the position of a potential Underground Storage Tank (UST) and likely backfill area (likely tank extent in red and green showing backfill material).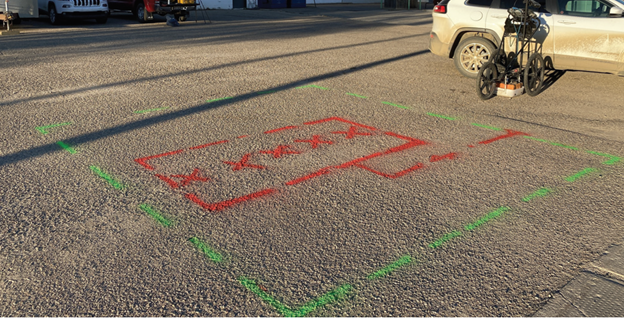 The reason the site was scanned with ground penetrating radar, even though none of the record searches revealed potential for underground storage tanks, is an interesting story. When speaking to one of the long-term employees of the building as part of our detailed interview process they indicated that they remember someone telling them that there was previously potentially the sale of gasoline at the subject site. The employee could not remember who had told them this information as they had worked at this premise for the last 20 years. As such the information we received could not be verified by talking to the person providing the information as the employee could not even remember who had told them the information or when it was provided.  And so this is how we ended up with a detailed Ground Penetrating Radar (GPR) scan of the property along with the above picture showing "X Marks the Spot" (or in this case the likely location of the Underground Storage Tank (UST) and its backfill area).
This indicates the importance of trying to evaluate all the information received, however in this instance no written records from any source were available to indicate the potential previous use of the site in relation to potential underground storage tanks. Therefore, our recommendation to our client was to undertake a Ground Penetrating Radar survey based on this limited information (which some people would describe as hearsay, or a sketchy record). As consultants we are careful with our approach to the assessment of sites and use technology and a range of assessment techniques in a careful and staged manner to answer questions or potential issues found on site.
This represents a very interesting case of the use of information which could not be fully verified in relation to our site assessment. In this case the technology used (GPR) was relatively inexpensive and although it has some limitations depending on the soil type and underlying geology it represents a useful first tool for determining potential underground disturbance.  Records availability often varies by area and for large cities there are more extensive an comprehensive records available than in smaller rural areas like in Northern Alberta where this site was located.  Sometimes the most valuable source of information can be some of the older people in the community who have lived in the locality most or all of their life.
We treat our clients money as if it were our own and are careful and methodical in our approach to site assessments based on evidence and a staged approach.  The results in this assessment indicated the Underground Storage Tank (UST) as an Area of Potential Environmental Concern (APEC).  In such cases a Phase II Environmental Site Assessment can therefore be undertaken in a considered and planned way to determine any contamination as a result of the underground storage tank.  The Ground Penetrating Radar also did not detect any other anomalies in the ground where other tanks may have been removed in the past and backfilled.  This provides an area to commence focusing on in any Phase II ESA as a considered and target approach based on evidence.
As professional Environmental Consultants working in Alberta, British Columbia and Ontario we serve our clients in a range of projects in a professional and timely manner.  Please give us a call or contact us through our Contact Us page on our website to discuss your next project.