When undertaking Phase I ESA's and Phase II ESA's you never know exactly what you may find when you attend a site.  Here is an example of an obvious item of potential concern being dumped drums and other associated debris from machinery servicing. Such activities can result in contamination of surrounding soil and when purchasing a property, it is important to consider former uses which may have resulted in contamination to the soil or ground water.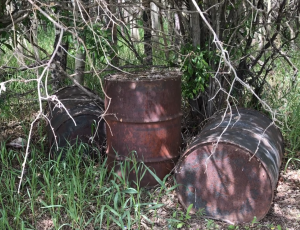 It is important to undertake a sound Due Diligence assessment of any site whether for finance for the lender or if you are a cash purchaser. Once a purchase is finalized any contamination present on the site becomes the "property" of the new owner.
This next photo shows a contaminated former Gas Station. Older Gas Station sites represent a much higher risk than newer sites due to the lack of Environmental Standards and controls historically. This particular site contained a "hot spot" of heavy oil contamination near to the old workshop with the probable source being an underground storage tank (UST) or leaking oil change pit.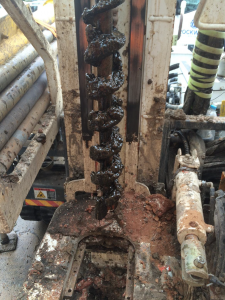 Environmental Due Diligence is an important consideration when purchasing a property or for "change of lease" for Commercial Properties. There are many potential risks when purchasing a property and with the cost of Environmental Remediation being so high it is important to avoid or minimize the risk of purchasing a Contaminated Site.
Why not give us a call for your next Due Diligence Environment Site Assessment. We cover all of Alberta and British Columbia with competitive rates and reliable service.